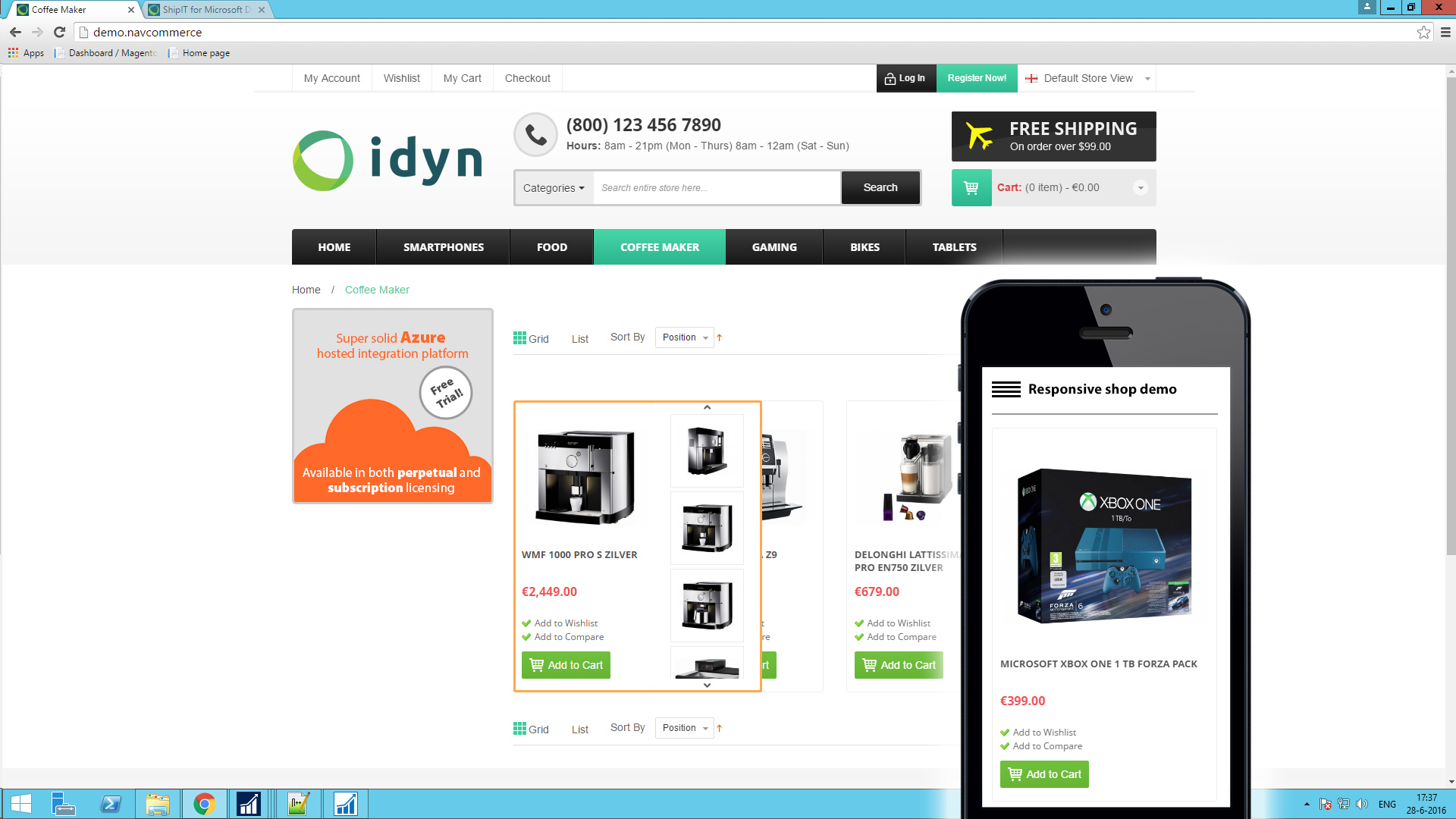 Run an online shop, directly from within Business Central/Dynamics NAV
With NAVcommerce idyn offers you a full featured e-commerce suite, to be used directly within Microsoft Dynamics NAV 2013R2/2015/2016/2017 or Business Central. It works with both Magento 1 & Magento 2. M system so that you can manage item attributes, rich texts, images, categories and everything else that is needed to run an online shop, directly from within Dynamics NAV or Business Central.
---
NAVcommerce For Customers
There is no need to learn new software. Our view is that all your data already sits in Business Central/Dynamics NAV. And that is the application your employees know how to work with. So we just have to extend that application with everything that is missing.
After a 5 minute set-up you can:
Start to enrich product data
Set up storefronts and categories
Publish your products online
Provide logins to your existing customers
Open registration for new customers
Run multiple B2B / B2C webshops, in multiple languages and currencies All directly from NAV
NAVcommerce For Partners
NAVcommerce is an easy to install standard solution. The add-on does not touch any existing NAV objects, so there is no merging and no risk involved. There are lots of customization options. Most customer requests can be fulfilled by using the extensive item attribute mechnism. But, for those partners who want to add customizations at a lower level there is a complete SDK available.
NAVcommerce For Magento Developers
NAVcommerce makes that you can say yes to any customer who uses NAV, without the need to know anything about NAV. Simply setup your store(s) any way you like, setup NAVcommerce to connect to the Magento API, and all data will be uploaded and retrieved automatically. There is no need to setup anything in terms of products, VAT, customers, order processing. NAVcommerce will take care of everything.
Extend your ERP system with everything you need to sell online
NAVCommerce offers a wide range of features including:
Multiple store fronts

Multiple logins per customer

B2B pricing - Customer specific pricing / discounts

Real time inventory

Multi-language

Unlimited documents & images

Flexible product category system

Attribute mapping - Connect attributes to existing NAV data

Product sets (with discounts)

NAV document support (PDF)

Email notification system

Optimized for Google Search & Analytics
Get Started With NAVCommerce
Contact us to learn more about what NAVCommerce can do for your business.