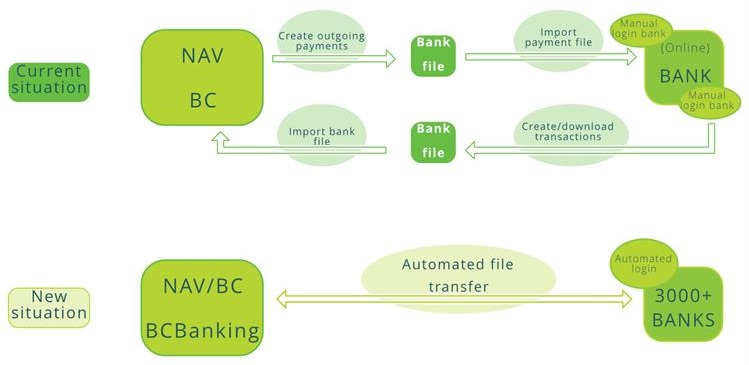 Improve your financial efficiency with BCBanking
BCBanking is an efficient add-on banking solution that improves your financial efficiency and accuracy. It offers you an efficient way of automatically integrating every single transaction of every single bank and bank account into Business Central or Microsoft Dynamics NAV by connecting you to multiple bank accounts all over the world. This goes for all types of accounts including e.g. current, checking, saving, cryptocurrency and e-wallets.
---
Initiate Worldwide Payments
BCBanking offers you the tool of worldwide money transfer at a low cost and at a real exchange to any bank account. You can save up to 8x compared to a bank when you send money or get paid in other currencies. The function to initiate worldwide payments via Open Banking and PSD2 channels will be added soon. This will be possible from any account and for any payment type that is provided by the connected banks: one-time, future dated, scheduled and bulk payments.
Security
Bank level security is guaranteed by multiple layers of encryption.We adhere to the highest international standards of privacy and security. Our solution is completely Azure based. We do not save any data or banking details. The only thing that we store is the necessary private key, that was specifically designated for one user account and device. The authorization session of any action expires in just a couple of minutes to ensure the best security.
BCBanking Offers:
Main Features
One integration with 3000+ connected banks (120 US + 14 Canadian banks)
Global coverage in 60 countries and increasing
Seamless integration with other financial institutions and e-wallets such as Paypal, Ebay, coinbase
Bank level security
Translated into a clear and easy-to-read format.
Real-time insight in cash flow
Flexible synchronization up to every hour
Worldwide payment Initiation services (H2, 2019) via open banking and PSD2 channels
Fully integrated in Business Central or Microsoft Dynamics NAV
Available from NAV 2013 R2 up to NAV 2018 and Business Central
Learn More About BCBanking
Contact us to learn more about how you can save time, effort and money with BCBanking.